Genres: Pop, Music, Electronic, R&B/Soul, Contemporary R&B, Dance
Released: Sep 12, 2006
℗ 2006 Zomba Recording LLC

专辑介绍:
JIVE唱片公司艺人 Justin Timberlake 将继其在全球热卖700万的首张大碟 Justified 之后,于9月12日发行他的第二张专辑 FutureSex/LoveSounds,首支单曲"SexyBack"也将于7月7日起亮相全美各大电台。

单曲"SexyBack"是由 Justin Timberlake, Timbaland 和 Nate Hills 共同创作完成的,而专辑 FutureSex/LoveSounds 则是由 Justin Timberlake,JAWBreakers, Timbaland 和 Rick Rubin 联手打造的。

Give Justin Timberlake credit for this: he has ambition. He may not have good instincts and may bungle his execution, but he sure has ambition and has ever since he was the leading heartthrob in *NSYNC. He drove the teen pop quintet to the top of the charts, far exceeding their peers the Backstreet Boys, and when the group could achieve no more, he eased into a solo career that earned him great sales and a fair amount of praise, largely centered on how he reworked the dynamic sound of early Michael Jackson at a time when Jacko was so hapless he turned away songs that later became JT hits, as in the Neptunes-propelled "Rock Your Body." That song and "Cry Me a River" turned his 2002 solo debut, Justified, into a blockbuster, which in turn meant that he started to be taken seriously — not just by teens-turned-adult, but also by some rock critics and Hollywood, who gave him no less than three starring roles in the wake of Justified. Those films all fell victim to endless delays — Alpha Dog aired at Sundance 2006 but didn't see release that year, nor did Black Snake Moan, which got pushed back until 2007, leaving Edison Force, a roundly panned Shattered Glass-styled thriller that sneaked out onto video, as the first Timberlake film to see the light of day — but even if silver screen stardom proved elusive, Justin didn't seem phased at all, and his fall 2006 album FutureSex/LoveSounds proves why: he'd been pouring all his energy into his second album to ensure that he didn't have a sophomore slump.

If Michael Jackson was the touchstone for Justified, Prince provides the cornerstone of FutureSex/LoveSounds, at least to a certain extent — Timbaland, Timberlake's chief collaborator here (a move that invites endless endlessly funny "Timbaland/Timberlake" jokes), does indeed spend plenty of time on FutureSex refurbishing the electro-funk of Prince's early-'80s recordings, just like he did with Nelly Furtado's Loose, and Timberlake's obsession with sex does indeed recall Prince's carnivorous carnality of the early '80s. But execution is everything, particularly with Timberlake, and if the clumsy title of FutureSex/LoveSounds wasn't a big enough tip-off that something is amiss here — the clear allusion to Speakerboxxx/The Love Below would seem like an homage if there weren't the nagging suspicion that Timberlake didn't realize that the OutKast album bore that title because it was two records in one — a quick listen to the album's opening triptych proves that Justin doesn't quite bring the robotic retro-future funk he's designed to life. Hell, a quick look at the titles of those first three songs shows some cracks in the album's architecture, as they reveal how desperate and literal Timberlake's sex moves are. Each of the three opening songs has "sex" sandwiched somewhere within its title, as if mere repetition of the word will magically conjure a sex vibe, when in truth it has the opposite effect: it makes it seem that Justin is singing about it because he's not getting it. Surely, his innuendos are bluntly obvious, packing lots of swagger but no machismo or grace. They merely recycle familiar scenarios — making out on the beach, dancing under hot lights, acting like a pimp — in familiar fashions, marrying them to grinding, squealing synths that never sound sweaty or sexy; if they're anything, they're the sound of bad anonymous sex in a club, not an epic freaky night with a sex machine like, say, Prince. But Prince isn't the only idol Justin Timberlake wants to emulate here. Like any young man with a complex about his maturity, he wants to prove that he's an adult now by singing not just about sex but also serious stuff, too — meaning, of course, that drugs are bad and can ruin lives. Like the Arctic Monkeys deploring the scummy men who pick up cheap hookers in Sheffield, Justin has read about the pipe and the damage done — he may not have seen it, but he sure knows that it happens somewhere, and he's put together an absurd Stevie Wonder-esque slice of protest pop in "Losing My Way," where he writes in character of a man who had it all and threw it all away...or, to use Justin's words, "Hi, my name is Bob/And I work at my job," which only goes to show that Timberlake lacks a sense of grace no matter what he chooses to write about.

Graceless he may be, but Timberlake is nevertheless kind of fascinating on FutureSex/LoveSounds since his fuses a clear musical vision — misguided, yes, but clear all the same — with a hammyness that only a child entertainer turned omnipresent 21st century celebrity can be. Timberlake yearns to be taken seriously, to be a soulful loverman like Marvin Gaye coupled with the musical audaciousness of Prince, yet still sell more records than Michael Jackson — and he not only yearns for that recognition, he feels entitled to it, so he's cut and pasted pieces from all their careers, cobbling together his own blueprint, following it in a fashion where every wrong move is simultaneously obvious and surprising. There is no subtlety to his music, nor is there much style — he's charmless in his affectations, and there's nothing but affectations in his music. At least this accumulation of affectations does amount to a semblance of personality this time around — he's still a slick cipher as a singer, yet he is undeniably an auteur of some sort, one who has created an album that's stilted and robotic, but one who doggedly carries it through to its logical conclusion, so the club jams and slow jams both feel equally distant and calculated. There is, however, a flair within the production, particularly in how foreign yet familiar its retro-future vibe sounds.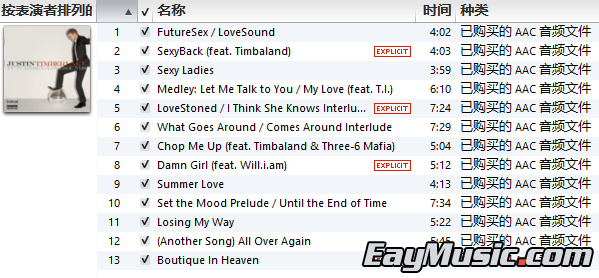 百度云:

游客,如果您要查看本帖隐藏内容请

回复

☆ ⌒_⌒☆。

1、本主题所有内容均为互联网采集所得。

2、SACD.NET仅对作品介绍展示,不直接提供下载服务。

3、版权归唱片公司和歌手所有,如侵犯您的权益,请通知我们,我们将及时删除。

4、如果你喜欢主题所述内容,请你通过正规渠道购买正版。


115:

游客,如果您要查看本帖隐藏内容请

回复

☆ ⌒_⌒☆。

1、本主题所有内容均为互联网采集所得。

2、SACD.NET仅对作品介绍展示,不直接提供下载服务。

3、版权归唱片公司和歌手所有,如侵犯您的权益,请通知我们,我们将及时删除。

4、如果你喜欢主题所述内容,请你通过正规渠道购买正版。


Google Drive:

游客,如果您要查看本帖隐藏内容请

回复

☆ ⌒_⌒☆。

1、本主题所有内容均为互联网采集所得。

2、SACD.NET仅对作品介绍展示,不直接提供下载服务。

3、版权归唱片公司和歌手所有,如侵犯您的权益,请通知我们,我们将及时删除。

4、如果你喜欢主题所述内容,请你通过正规渠道购买正版。


MEGA:

游客,如果您要查看本帖隐藏内容请

回复

☆ ⌒_⌒☆。

1、本主题所有内容均为互联网采集所得。

2、SACD.NET仅对作品介绍展示,不直接提供下载服务。

3、版权归唱片公司和歌手所有,如侵犯您的权益,请通知我们,我们将及时删除。

4、如果你喜欢主题所述内容,请你通过正规渠道购买正版。