封面:


简介:


Analogue Productions CPRJ 7018 SA

Mono Hybrid

Jazz

Phil Woods (alto sax)
John Williams (piano)
Teddy Kotick (bass)
Nick Stabulas (drums)

These SACD jackets feature printed wraps mounted to chipboard shells, producing an authentic, "old school" look and feel. Some people call these "mini LP" jackets.

Alto saxophonist Phil Woods had recorded with Jimmy Raney and with his own quintet featuring trumpeter Jon Eardley but this was the first date where he was carrying the load as the lone horn, and also his first strictly-for-12-inch LP.

Considering this date was done in November 1955, more than 45 years ago, it holds up exceedingly well. Phil always had all the musical tools. He has continued to develop as an artist but was already very accomplished. The swift, minor-key version of "Get Happy" and the intense blues-saying of "Strollin' with Pam" are two particularly outstanding examples. Woods also swings hard on three standards, "Slow Boat to China," "Be My Love," and "Woodlore."

Pianist Johnny Williams was a Bud Powell disciple who, like a lot of other young pianists, had latched on to Horace Silver. His way of accompanying reflected this in its funky, rolling quality.

Originally released in 1955.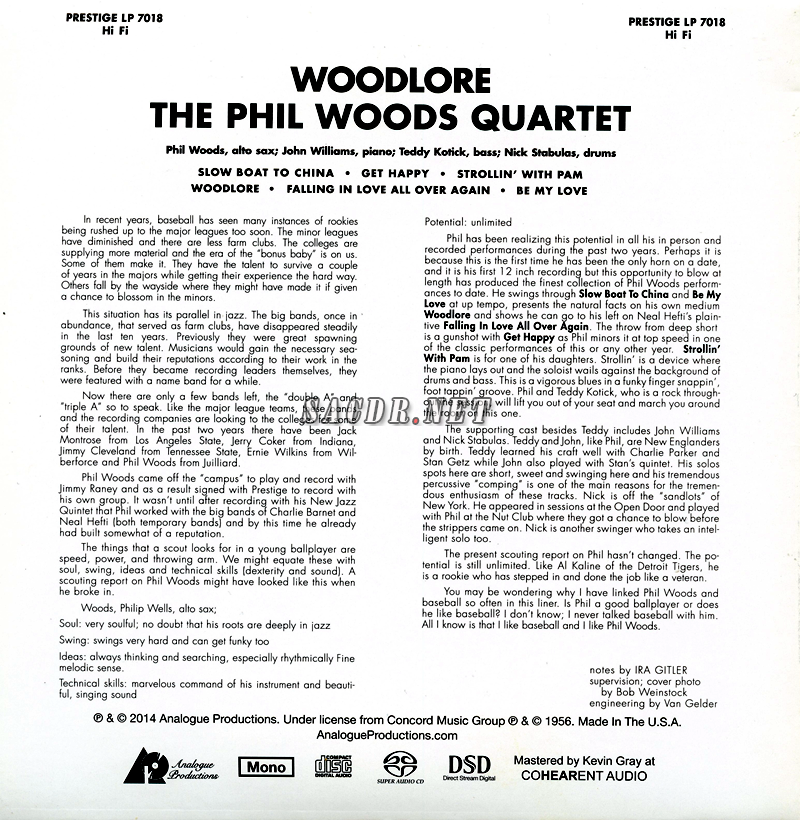 曲目:
1. Woodlore
2. Falling In Love All Over Again
3. Be My Love
4. On A Slow Boat To China
5. Get Happy
6. Strollin' With Pam

---
试听:
https://pan.baidu.com/s/1nwz4t89

---
游客,如果您要查看本帖隐藏内容请
回复
☆ ⌒_⌒☆。
1、本主题所有内容均为互联网采集所得。
2、SACD.NET仅对作品介绍展示,不直接提供下载服务。
3、版权归唱片公司和歌手所有,如侵犯您的权益,请通知我们,我们将及时删除。
4、如果你喜欢主题所述内容,请你通过正规渠道购买正版。